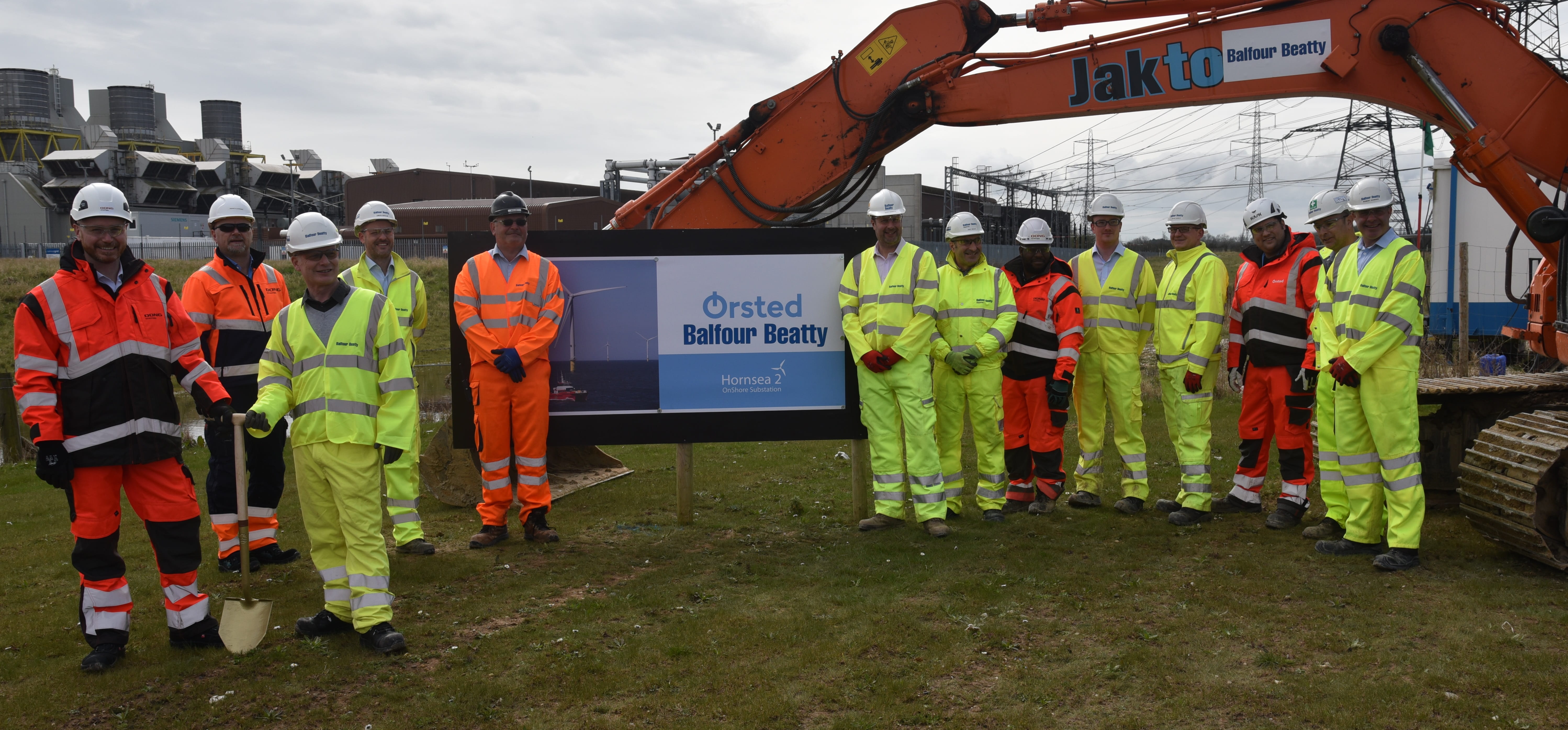 Aerial shot of North Killingholme site showing the Hornsea One substation and the adjacent land whereby preparatory works for Hornsea Two's substation have already begun.
When operational in 2022, the wind farm will supply clean electricity to over 1.3 million homes, and surpass its sister project Hornsea Project One, as the world's largest offshore wind farm.
This contract continues the collaboration between Ørsted and Balfour Beatty, who also constructed the onshore substation for Hornsea Project One offshore wind farm, on the adjacent site.
As part of the works, Balfour Beatty will construct a new onshore substation facility, which will transform the power produced by Hornsea Project Two wind farm before connecting to the National Grid.
Additionally, Balfour Beatty will utilise its leading mechanical and electrical capability, Balfour Beatty Kilpatrick, to deliver the mechanical and electrical services for the new state-of-the-art facility.
Duncan Clark, Programme Director for Hornsea Projects One and Two, said:
"We're delighted that Balfour Beatty will continue to work with us on these huge offshore wind farm projects. Having already constructed onshore substations for three of our other projects, this contract continues the long-term partnership between Ørsted and Balfour Beatty.
"Their team is already on site having nearly finished Hornsea Project One's substation, and having this continuity of the team will ensure optimum efficiencies. We're committed to investing in the UK and we're very pleased to be working with a UK firm that we have confidence will deliver a good quality build, on time and most importantly, with a continued high focus on safety."
Thomas Edgcumbe, Balfour Beatty Managing Director for its North and Midlands regional business, said:
"Having recently completed works to Hornsea Project One, this award is testament to the long-standing relationship we have built with Ørsted over the past few years.
"We're proud to continue this momentum, and look forward to successfully and safely delivering the substation; providing clean power to millions of homes across the UK."
Following successful collaboration during the enabling works phase earlier this year, Balfour Beatty will now commence works to the main build with completion expected in 2020.
Hornsea Project Two won a Contract for Difference in September 2017, and will be built at the lowest ever price for offshore wind seen in the UK. The 1.4 gigawatt (GW) project will be located 89 kilometres off the Yorkshire Coast, and last month Ørsted confirmed it will use 165 Siemens Gamesa turbines for the project. The majority of the blades are expected to be manufactured at the Siemens Gamesa facility in Hull, where pre-assembly work will also be carried out.
https://orsted.co.uk/Media/Newsroom/News/2018/08/Balfour-Beatty-appointed-to-build-onshore-substation-for-worlds-largest-offshore-wind-farm